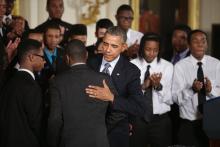 I have a vivid memory of my first visit to Sing Sing Correctional Facility in upstate New York. Some young inmates were reading my book, The Soul of Politics, as part of a seminary program in the infamous prison, and they invited me to come discuss it with them. The warden gave me and about 50 young men several hours together, and I will never forget the comment one of them made: "Jim, most of us here are from just five or six neighborhoods in New York City. It's like a train that starts in my neighborhood, and you get on when you are 9 or 10 years old. The train ends up here at Sing Sing." But then he said, "Some of us have been converted, and when we get out, we're going to go back and stop that train."
That's exactly what President Obama's launch of "My Brother's Keeper" is calling us to do: to stop the train that is taking young men of color from broken economies, schools, families, and lives into despair, anger, disengagement, trouble, violence, crime, prison, and even death at an early age. This is an urgent and long-overdue moral call that must supersede all our political differences.
While the president's agenda has always included goals intended to help all Americans, this launch was painfully, powerfully, and prophetically specific.