President Obama
President Barack Obama observed that the celebration of Easter puts other concerns into context.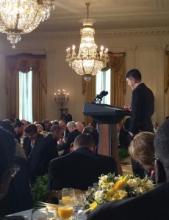 I got the call on the morning of Maundy Thursday: Would you be interested in giving the closing prayer at the White House Easter Prayer Breakfast?
Uh. Yes. Wow. Absolutely. I actually don't even remember what my response was, but it was probably something like that.
My feeling upon hanging up the phone — and the underlying sense all through the emotion and significance and spiritual intensity of our Good Friday and Easter Sunday services at my church — was, Who, me? 
I felt the same way walking into the White House with a bunch of leaders whose names and faces I'd seen before on social media or the news but never yet in person.
The other presenters that day were Rev. Amy Butler from Riverside Church in New York City, Sister Donna Markham of Catholic Charities USA, Fr. Anthony Messeh of St. Timothy and St. Athanasius Coptic Orthodox Church, and Pastor Ann Lightner-Fuller of Mt. Calvary A.M.E. Church, and as we met and chatted in the Blue Room while we waited for the President and Vice President to greet us before the breakfast, we shared this common feeling. Who were we to be doing this? At one point, Fr. Anthony said, "I'm just waiting for someone to tap me on the shoulder and tell me they made a mistake!"
Eight years ago, a 25-year-old, grad-school-student, fanboy-and-campaigner-in-chief Justin would have been unreservedly and unabashedly over-the-moon about an opportunity like this — and please don't get me wrong, I was excited. There were a lot of things I thought about saying to the President — "Big fan, sir!" or "We're praying for you!" or "Come visit The District Church — we're just a couple miles up the road!" or "How about that Championship game last night?"
But all that came out was, "Great to meet you, Mr. President!" And then I had nothing.
The breakfast itself was a fun thing to be a part of, too. From Vice President Biden's opening remarks to President Obama's reflections (and jokes, the man's got a great sense of humor!)to the song by Amy Grant (a childhood musical hero of mine) to the scriptures read from 1 Corinthians and Mark's Gospel to the homily on having the courage to hope and keep moving forward, the event was a thoroughly Jesus-saturated. It felt like an extension of Easter Sunday.
And I guess that's what God has impressed upon my heart this weekend and through the prayer breakfast: we all need the gospel and the gospel is for us all. Before the breakfast, I met Rev. Lennox Yearwood of the Hip Hop Caucus, and we both commented on how even famous people need Jesus, how even nice suits and dresses can't hide the things that we all have to deal with.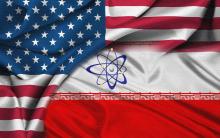 The United States and Iran agreed to a preliminary deal on Iran's nuclear program today, Politico reports. The hotly anticipated deal, following stop-and-start negotiations and vocal concern from Republicans and Israeli Prime Minister Benjamin Netanyahu, will include Iran dismantling two-thirds of its centrifuges and allowing rigiourous inspections by the IAEA through 2035 and beyond. In exchange for Iran's compliance, the U.S. and the E.U. will lift longstanding economic sanctions. 
President Obama was optimistic but pragmatic, saying the plan was a "good deal," according to Politico: 
"'[It is] a historic understanding with Iran which, if implemented, will prevent it from obtaining a nuclear weapon. I am convinced that if this framework leads to a final deal, it will make our country and the world safer,' Obama said in a statement in the White House Rose Garden. The deal would 'cut off every pathway that Iran could take to develop a nuclear weapon.'

... Obama stressed in particular the inspection and verification aspects of the agreement. 'If Iran cheats, the world will know it. If we see anything suspicious, we will inspect it,' Obama said.

...'If there is backsliding on the part of the Iranians,' he said, 'there will be no deal.'"
The Win Without War coalition called the preliminary deal "huge news" in a statement, also released today:
"At a time when much of the Middle East is engulfed in war, the United States is on the verge of achieving one of our most pressing national security goals without dropping a single bomb. Today's progress towards a comprehensive, historic agreement between Iran, the United States, and our P5+1 partners not only ensures that Iran will not get a nuclear weapon, but it demonstrates precisely how America can win without war."
Details of the plan are anticipated in late June. Read more at Politico. 
1. SAE, White Thugs, and American Traditions
"I am neither angry nor surprised by these white extremists getting caught doing what white extremists do. This is American tradition. These are the words embedded in the psyches of these white fraternity brothers before they can even speak."
2. This Is What A Little Over A Year Of Religious Women Breaking Down Barriers Looks Like
In honor of Women's History Month, check out who made this list of top religious women upholding full gender equality.
"The global response must be multifaceted. Still, as the international anti-ISIS coalition led by the United States considers nonmilitary options to "degrade and ultimately destroy" ISIS, it should focus on empowering local civil society in Syria and Iraq with targeted resources, technologies, and knowledge to build resilience and deny ISIS the moral and material support it needs to wield effective control."
4. The Conservative Obsession with Moral Values Doesn't Explain the Plight of the Working Poor
"Research on both sides of the aisle has confirmed a quiet crisis in American life: over the last few decades, the social fabric of the poor and working class has come apart at the seams. ...A vocal cadre of conservatives have cohered around a theory of what happened: the post-1960s turn away from traditional moral values. But like any theory, it must fit the available data and it must be internally consistent. This one fails on both counts."
"These things have been silenced: the tremendous spiritual power of sexuality, menstruation, breastfeeding, and birth; the shame-map of internalized emotional violence that holds these powers in check; the capacity — and obligation — of Gospel love to dissolve the boundaries of gender. ...To tell these things has been imund, forbidden. If you tell these things, you may be held responsible for all the feelings of all the people who are shaken in their boots by what you say."
6. Becoming Jihadi John: How Did Mohammed Emwazi Go from Mild Youth to Islamic State Executioner?
Politico magazine traces the roots of the British man's transformation to ISIS executioner, examining the difference between ideology-based and poverty-driven extremism.  
7. Nicaragua's Renewable Energy Revolution Picks Up Steam
"Renewables now generate nearly half of Nicaragua's electricity, a figure that government officials predict could rise to 80 percent within a few years. That compares to just 13 percent in the United States."
Twenty-one aid organizations released a report this week detailing the increasing violence, impoverishment, and despair of the Syrian people. It cites, "Huge increases in the number of people in need of humanitarian aid inside Syria; 1.33 million more children are in need and there has been a 31 percent increase among the population as a whole."
9. Disturbing Fast Food Truth Not Exactly A Game-Changer For Impoverished Single Mom Of 3
The Onion's satire nails the complicated tensions of food and poverty in the U.S. 
10. WATCH: Mean Tweets: Obama Edition
President Obama joined in on a Jimmy Kimmel classic bit on Thursday, reading aloud a handful of "mean tweets" aimed at him.​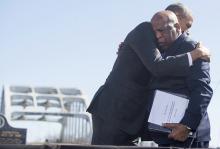 The Edmund Pettus Bridge was named after a Confederate general who became a Grand Dragon in the Ku Klux Klan. His name, still emblazoned over the top of that now famous bridge, was a powerful and threatening symbol of white power and supremacy in Selma, Ala. The Student Non-Violent Coordinating Committee (SNCC) had at one time removed Selma from their list of places to organize because "the white folks were too mean, and black folks were too afraid."
But that didn't deter a group of courageous African Americans from marching across that bridge a half-century ago, risking their lives for the right to vote in America. They were attacked and beaten by the fierce forces, led by notorious Sheriff Jim Clark, for their resistance to the frightening violence of white power.
Last Saturday, during the 50th anniversary event of "Bloody Sunday," I spent many hours just looking at that bridge. The words that kept coming to me were "courage" and "resistance." My question became: what bridge we will now have to cross?
Congressman John Lewis, whose skull was cracked that day as a young man, opened the main event.
"On that day, 600 people marched into history … We were beaten, tear gassed, some of us [were] left bloody right here on this bridge. … But we never became bitter or hostile. We kept believing that the truth we stood for would have the final say."
Then Lewis introduced the president, "If someone had told me, when we were crossing this bridge, that one day I would be back here introducing the first African-American president, I would have said you're crazy."
What happened on this bridge, President Barack Obama said, "was a contest to determine the meaning of America," and where "the idea of a just America, a fair America, an inclusive America, a generous America … ultimately triumphed."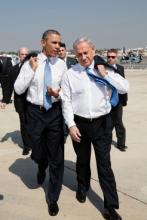 American Jewish leaders and activists are worried about widening political divisions between Israel and the White House, sparked by Israeli Prime Minister Benjamin Netanyahu's controversial address to Congress on Tuesday despite strident objections by President Obama.
Many are concerned about the threat to Israel from Iran's nuclear program and the prospect of a weak deal with the United States to curb it, an issue on which Netanyahu has been an outspoken Obama critic. Even so, they believe Netanyahu's unrestrained attacks on the White House and in-your-face visit jeopardizes the close ties Israel has long enjoyed with the United States.
"People are upset about it," said Rob Eshman, publisher and editor in chief of the Jewish Journal, a Los Angeles-based publication and website.
"They're obviously concerned about Iran and want a good deal and think it's really unfortunate that Prime Minister Netanyahu is doing this — creating a conflict outside the existing conflict."
The divisiveness among Americans mirrors that of many Israelis equally concerned the visit will plunge traditionally close relations between U.S. and Israeli leaders to an unprecedented low.
1. How David Carr Described His Messy Relationship with Faith
"I am a man who swears frequently, goes to church every Sunday, and lives in search of faith." New York Times media columnist David Carr died Thursday after collapsing in the newsroom. He was 58.
2. Friends of the Chapel Hill Shooting Victims Share Their Memories
In the aftermath of the shooting deaths of three Muslim students in Chapel Hill, N.C., Coming of Faith compiled stories from friends of the victims. And view a collection of moving images from the Wednesday evening vigils that brought together three rival colleges and an entire community.
3. AUDIO: 'Hello, My Name is Yusor Abu-Salha'
"Growing up in America has been such a blessing. … I feel so embedded in the fabric that is our culture. And here, we're all one." In May 2014, one of the victims of Tuesday's Chapel Hill shooting recorded a StoryCorps interview with her 3rd grade teacher. Here are clips from that interview and her teacher's reflection on Yusor's death.
4. U.S. Slams Sudan for Blocking Darfur Mass Rape Investigation
"Speaking at a meeting of the U.N. Security Council, U.S. Ambassador Samantha Power referred to a new report by New York-based Human Rights Watch, which accused Sudanese soldiers of raping at least 221 women and girls in the village of Tabit over the course of three days. … 'To this day, the government of Sudan has shamefully denied the U.N. the ability to properly investigate this incident,' Power told the 15-nation council."
5. WATCH: Things Everybody Does But Doesn't Talk About
In case you're not one of the 20+ million people who have already watched this clip, check out President Obama's BuzzFeed video debut. … You know you have trouble pronouncing February too.
I'm very offended. Or so I'm told. As a believing Christian, I'm supposed to be deeply troubled by the remarks that President Barack Obama delivered at the recent National Prayer Breakfast here in Washington, DC. Former Virginia governor Jim Gilmore had this to say:
The president's comments this morning at the prayer breakfast are the most offensive I've ever heard a president make in my lifetime. He has offended every believing Christian in the United States. This goes further to the point that Mr. Obama does not believe in America or the values we all share.
Strong words. But what were Obama's terribly offensive remarks? Here's what the president said:
And lest we get on our high horse and think [religious violence] is unique to some other place, remember that during the Crusades and the Inquisition, people committed terrible deeds in the name of Christ. In our home country, slavery and Jim Crow all too often was justified in the name of Christ.
Wait… what? Why should I be offended by that? That's a fact. That's our history. Every Christian should be aware of what we are capable of when we turn our eyes away from the self-sacrificing love of Jesus and instead turn Christianity into an ideology that justifies terror, brutality, oppression, and war.
It should be impossible to study Western history without getting some glimpse into the terrifying possibilities that any religious system — including Christian ones — hold out for those who seek to dominate others. We humans have a long track record of twisting our most precious faith into a weapon of violence and hatred. This shouldn't be a controversial statement; it should be a matter of ongoing repentance and prayer for people of faith everywhere.
So I'm confused.
In his annual State of the Union address last week, President Obama began his foreign policy focus by saying, "If there's one thing this new century has taught us, it's that we cannot separate our work at home from challenges beyond our shores." 
Unfortunately, an insidiously prevalent challenge and hugely profitable crime facing the world — modern slavery and human trafficking — was not mentioned in the President's list of current global concerns facing the U.S. on Tuesday night. To be fair, he has given a major address on the topic before. But no president has ever raised the issue in his big annual address.
That needs to change.
Incidentally, the President just finished a multi-day trip to India, home to almost one-half of the world's enslaved people. In a surprise and welcome development, he brought up the topic in his last speech there — a pointed one on human rights — saying, "Together, we can stand up against human trafficking and work to end the scourge of modern-day slavery."  
Raising the issue in this context is an important step in naming the problem. Indeed, one of our country's most effective tools for fighting slavery — the State Department's annual Trafficking in Persons report — consistently pulls its punches specifically on India, declining to hold them fully accountable for the massive level of human exploitation there. Given India's size and wealth, our larger foreign policy apparatus deems it more important to avoid "risking" other geopolitical concerns with the diplomatic fallout that could come from telling the truth on slavery. 
This week, there was a lot of commentary about the State of the Union, the title of the president's annual January speech before a joint session of Congress. I thought it was one of Obama's best addresses recently because he focused on what is real for this country — growing economic inequality where only a few are doing "spectacularly well" while many families are still struggling just to get by.
The wife and mother from one of those families wrote the president a letter that seemed to have moved him, so he lifted up her "tight-knit family" trying to get through "hard times," as she sat up in the gallery next to first lady Michelle Obama. Her family became a parable for the nation that is starting to do better economically but still faces hard choices that the president sought to address with very practical suggestions to support what he called "middle class economics."
Obama's proposals for shifting tax breaks from the very wealthy to the middle class, to make possible child tax credits, days for sick leave, assistance with child care, and some relief from expensive educational costs are all proposals not likely to be supported by the new Republican Congress. But the speech begins to set what could be a long-term agenda to deal with our massive economic inequality — finally. Even the Republicans now might have to face up to the increasingly visible, embarrassing, alarming, and morally indefensible gaps between a small elite and the rest of the country.
Pages