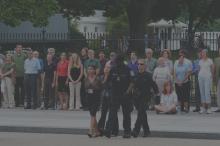 They said it was a fool's errand.
They said there was too much money on the other side.
They said the politics were too difficult.
And yet here we are.
As my friend Bill McKibben wrote in 2011, our indigenous brothers and sisters in Canada had been fighting the Keystone XL pipeline for years. But before August 2011, virtually no one in the U.S. had even heard of it.
Then I read the pastoral letter from Alberta's Bishop Luc Bouchard, The Integrity of Creation and the Athabasca Oil Sands, and I felt the Spirit calling me to action.
We put out a call to religious leaders to join the Tar Sands Blockade in Washington, D.C., in the summer of 2011. It was hot. It was humid. It was summer in D.C. But hundreds and hundreds of Protestant pastors, rabbis, Buddhist priests, Franciscans, Unitarians, and Christians of all stripes said they would come.