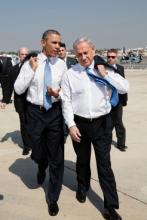 American Jewish leaders and activists are worried about widening political divisions between Israel and the White House, sparked by Israeli Prime Minister Benjamin Netanyahu's controversial address to Congress on Tuesday despite strident objections by President Obama.
Many are concerned about the threat to Israel from Iran's nuclear program and the prospect of a weak deal with the United States to curb it, an issue on which Netanyahu has been an outspoken Obama critic. Even so, they believe Netanyahu's unrestrained attacks on the White House and in-your-face visit jeopardizes the close ties Israel has long enjoyed with the United States.
"People are upset about it," said Rob Eshman, publisher and editor in chief of the Jewish Journal, a Los Angeles-based publication and website.
"They're obviously concerned about Iran and want a good deal and think it's really unfortunate that Prime Minister Netanyahu is doing this — creating a conflict outside the existing conflict."
The divisiveness among Americans mirrors that of many Israelis equally concerned the visit will plunge traditionally close relations between U.S. and Israeli leaders to an unprecedented low.