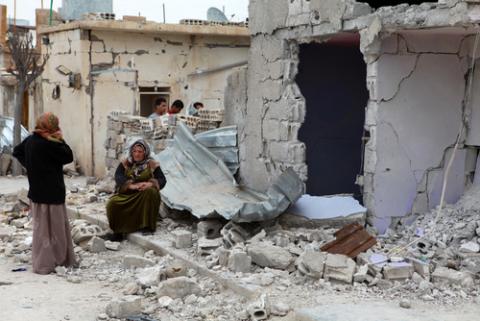 What's happening in Syria is awful. You see the pictures and your heart breaks. It's horrific. Lakhdar Brahimi, U.N. special envoy to Syria, said Wednesday that, "With what has happened on the 21st of August last week, it does seem that some kind of substance was used that killed a lot of people: hundreds, definitely more than a hundred, some people say 300, some people say 600, maybe 1,000, maybe more than 1,000."
The Huffington Post has a slider with the title, Syria War In August (Warning: Graphic Images). Of course, every life matters, but as a father with three young children, seeing the picture of a Syrian man crying out in pain as he carries the body of a young girl – words fail.
Violence and Justice
My wife knows that we promote nonviolence at the Raven Foundation, and that I lean toward pacifism. Wednesday night, as we discussed Syria and Bashar al-Assad's continued threats of violence, she asked me, "Well, what do we do if a government uses chemical weapons against its own people?"
The question haunts me. These are times that try the soul of anyone committed to nonviolence. We all want justice. We all want the violence to stop. We don't want any more people to cry in pain as they carry the body of a lifeless child.
And so President Barack Obama seems to be ramping up the war machine. Ironically, as he plans for possible military strikes, on Wednesday he delivered a talk honoring the 50th anniversary of Martin Luther King Jr.'s speech "I Have a Dream." As we hear the drum beat of war, we are reminded of King's dream of justice. In his speech King said:
We must not be guilty of wrongful deeds. Let us not seek to satisfy our thirst for freedom by drinking from the cup of bitterness and hatred. … We must not allow our creative protest to degenerate into physical violence. Again and again, we must rise to the majestic heights of meeting physical force with soul force. … [We] will not be satisfied until justice rolls down like water and righteousness like a mighty stream.
Our popular understanding of "justice" is mired with violence. For King, true justice was always based on love and nonviolence, because violence always carries with it a fatal flaw. As he wrote in his book Strength to Love, "Violence brings only temporary victories; violence, by creating many more social problems than it solves, never brings permanent peace" (18).
The Real World
It is often said that people who believe in nonviolence don't live in the real world, but these famous words of King are some of the most realistic words I've ever heard: "Returning hate for hate multiplies hate, adding deeper darkness to a night already devoice of stars. Darkness cannot drive out darkness, only love can do that. Hate multiplies hate, violence multiplies violence, and toughness multiplies toughness in a descending spiral of destruction" (Strength to Love, 53).
There is a mimetic realism to King's statements. If we strike Syria, Assad can mimic our violence with more violence of his own. Recent history shows this playing out. Ken Dilanian of the Los Angeles Times states that, "The type of limited, punitive military campaign now being contemplated against Syria has failed to deter U.S. adversaries in the past, and at times emboldened them …"
For example, in 19c98 under President Bill Clinton, the U.S. sought justice by launching bombs and cruise missiles against Osama bin Laden's al-Qaeda and against Saddam Hussein. Those attacks were deemed successful, but because we stand on this side of history, we know that violence did nothing to deter bin Laden or Hussein from tragically using violence again, sending us into a "descending spiral of destruction."
Welcome to the real world of violence. If Obama strikes Syria, it could serve to embolden Assad. Violence will continue to multiply, and Obama will only have reaffirmed Assad's faith that violence is the way to solve our problems.
Answers
What's the answer? I hate to disappoint you, but there is no answer that will guarantee to protect you, me, or the people of Syria from violence. All I can do is offer the creative response of nonviolent love and trust the prophetic words of King,
Love is the only force capable of transforming an enemy into a friend. We never get rid of an enemy by meeting hate with hate; we get rid of an enemy by getting rid of enmity. By its very nature, hate destroys and tears down; by its very nature love creates and builds up. Love transforms with redemptive power. (Strength to Love, 54)
In the real world that kind of love is risky, but violence is even more risky. Fortunately, there is a growing movement in Syria taking the risk of nonviolence in their dream for justice. According to Amnesty International, in Syria "tens of thousands continue to resist the Assad regimes brutality … through nonviolent methods of staggering diversity and creativity." One such group is the Syrian Nonviolence Movement, which is committed to the peaceful, nonviolent struggle for justice in Syria. The movement's website states:
We believe that non-violence is a complete reform process and our work is not to achieve interim goals but rather is a continuous movement to change the society. It won't reach its ends by toppling a regime or a president but by reaching a critical mass in Syrian society that acknowledges the need for change and its means, and contributes in moving the society towards a new reality of consciousness, freedom and pluralism.
This isn't some utopian hippie message that claims if we just love each other we will all get along. Love is capable of transforming an enemy into a friend, as King said, but it's no guarantee. There are few guarantees in this world. The only guarantee is that in our search for justice violence will only produce more violence. The only alternative is to join with others in moving our global "society towards a new reality of consciousness" that seeks justice by actively meeting physical force with the soul force, with creative acts of nonviolent love.
Adam Ericksen blogs at the Raven Foundation, where he uses mimetic theory to provide social commentary on religion, politics, and pop culture. Follow Adam on Twitter @adamericksen.
Image: View of war damage in Syria, fpolat69 / Shutterstock.com