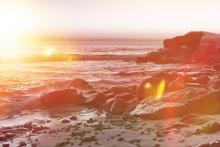 After the monsoon, after work, I catch   
you with your face in the hot laundry,
the syntax of spring held together by sap,
hanging wild and worried and crazy
in the lowest branch. In the ripe country,
salmon fold over the linens of the bay,
and I weep with you from the shore, embodied.
For still you feel the fell of dark, not day.