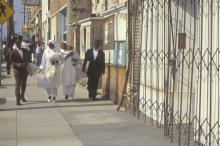 Nearly nine in 10 Muslim American voters pulled the lever for the Democratic candidate in the last two presidential elections, partly because of Republican policies and rhetoric that many considered anti-Muslim. In 2008, they also thought President Obama would usher in an era in which Muslims would be more accepted at home, and relations between America and the Islamic world would see improvement.
But this year, Muslim American support for President Obama shows signs of waning, which could be enough to affect the 2012 election in key swing states where a few thousand votes could have a big impact.
Several of those swing states -- most notably Virginia, Michigan, Florida, Pennsylvania, Colorado, and Ohio -- have enough Muslim voters to turn a tight race, experts say.
According to a poll of 500 Muslim American voters released Wednesday (Oct. 24) by the Council of American-Islamic Relations in Washington, 68 percent of Muslims said they would vote for President Obama, while 25 percent were undecided. The poll, which had a margin of error of plus or minus 5 percentage points, also found that 91 percent of Muslims intend to vote.