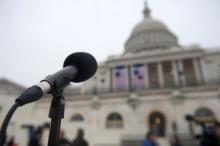 President Obama will publicly take the oath of office on two Bibles once owned by his political heroes, Abraham Lincoln and the Rev. Martin Luther King Jr. One Bible was well read, but cited cautiously, the other granted scriptural sanction to the civil rights movement.
When Obama lifts his hands from the Bibles and turns to deliver his second inaugural address on Monday (Jan. 21), his own approach to Scripture will come into view. Characteristically, it sits somewhere between the former president and famous preacher.
His faith forged in the black church, Obama draws deeply on its blending of biblical narratives with contemporary issues such as racism and poverty. But like Lincoln, Obama also acknowledges that Americans sometimes invoke the same Bible to argue past each other, and that Scripture itself counsels against sanctimony.
Obama articulated this view most clearly in a 2006 speech, saying that secularists shouldn't bar believers from the public square, but neither should people of faith expect America to be one vast amen corner.
"He understands that you can appeal to people on religious grounds," said Jeffrey Siker, a theology professor at Loyola Marymount University in California who has studied Obama's speeches. "But you also have to be able to translate your case into arguments that people of different faiths, or no faith, can grasp."