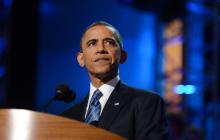 I believe we can seize this future together -- because we are not as divided as our politics suggest; we're not as cynical as the pundits believe; we are greater than the sum of our individual ambitions; and we remain more than a collection of red states and blue states. We are, and forever will be, the United States of America. And together, with your help, and God's grace, we will continue our journey forward, and remind the world just why it is that we live in the greatest nation on Earth. -- President Barack Obama, 7 November 2012  
Yesterday I joined a Facebook exchange about whether the United States is indeed the greatest nation on Earth. By quite a few objective criteria, I argued, we trail other nations: health care accessibility, lifespan, maternal mortality, education, infrastructure development, employment, equality of opportunity ... well, the list is frighteningly long. We are clearly not the greatest nation on earth by any standards that people from other nations would accept, and we are becoming less great every year (for a European view of America's decline, read this sobering article - in English - from Monday's Der Spiegel).  
Yesterday I also told my two little dogs -- Muffin the poodle mix and Tiggy-Winkle the terrier -- that they are the best little dogs in the world. By quite a few objective criteria, I am deluded about my dogs. Tiggy  digs holes in upholstered furniture, and she barks so much that she was nearly kicked out of obedience school ("Just give up," the trainer advised; "she's going to bark, whatever you do"). Muffin snores, refuses to cooperate with her groomer, and bites large dogs. But I love my dogs passionately. I wouldn't trade them for any Westminster champions or obedience winners. Several friends, watching me interact with Tiggy and Muffin, have said they would like to be my dogs.