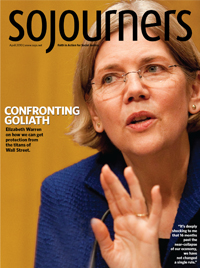 It's a great thing that Elizabeth Warren has just been appointed an advisor to the newly-created Consumer Financial Protection Bureau, which will help protect consumers from incomprehensible and predatory credit card agreements, mortgages, and other financial instruments.
It's a great thing because Warren, a Harvard professor and former Sunday School teacher, has what it takes to tell the truth and stand up for consumers' right to know what it is they are buying when they sign up for a credit card or buy a house. As Warren put it in her Sojourners interview earlier this year,
A credit card agreement in 1980 was one page; by the early 2000s, it was more than 30 pages and unreadable -- that's the point ... . Wall Street companies figured out how to trick their way into billions of dollars annually from hard-working middle-class families. That drove up profits and bonuses in the industry -- and risk for families and the entire economy.

The idea is to get some basic fairness in the marketplace so that customers can tell in advance what they're buying.
In a move to avoid a months-long trench-warfare confirmation battle, President Obama has nominated Warren to be a special adviser helping to form the consumer protection agency, rather than head of the agency itself. And -- assuming she is able to exercise a real voice in helping to form that agency -- that's just fine. Because, enthusiastic as I am about Elizabeth Warren as a person, this is not about personalities, but rules. As Warren put it:
Look, this is about a set of rules. We used to have a good set of basic rules that governed credit. They were largely usury-based rules, biblical in origin, which had been part of America's laws since colonial times. They were very quietly tossed out in the 1980s. That's what provoked this race to the bottom. My push right now is -- we can change this. We are the ones who determine what the rules are!
Now, Elizabeth Warren gets to be a voice of sanity about those rules inside the administration, as she was outside.

Elizabeth Palmberg is an associate editor of Sojourners.