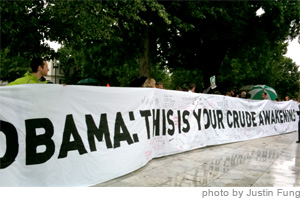 Earlier this week, we participated in a march from the Department of the Interior to the White House -- a direct response to the recent Gulf Coast oil spill (and the history of dirty energy accidents). We marched because we agree with Thomas Friedman when he said, "This oil spill is to the environment what the sub-prime mortgage mess was to the markets -- both a wake-up call and an opportunity to galvanize a constituency for radical change that overcomes the powerful lobbies and vested interests that want to keep us addicted to oil."
We marched in solidarity with our friends along the Gulf Coast, as we called our politicians to take the lead in imagining an end to offshore drilling and overall, a more robust commitment to a clean, green, safe energy future. "Drill, baby, drill means spill, baby, spill," we shouted.
We marched the day before Kerry and Lieberman introduced their climate and energy bill in the Senate -- because while their bill is the only legitimate response to the oil spill, we need a bill that reflects our priority to the least of these among us.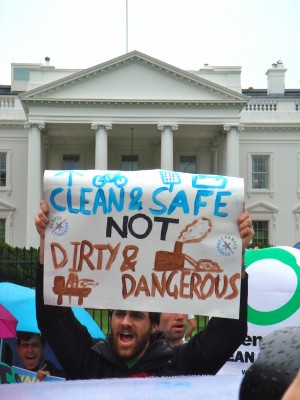 What do you think? What's your response to the oil spill? What ideas do you have to better steward God's creation? Post your ideas in the comments below!
Sheldon C. Good is the media assistant for Sojourners.
Justin Fung is the policy and organizing assistant for Sojourners. A graduate of University College London (Law) and Fuller Theological Seminary (Theology/Cross-Cultural Studies), he blogs regularly at Gershom's Journal and tweets from @justinfung.
+ Ask President Obama and Congress to support a climate and energy bill that protects people and the planet, not polluters.
Got something to say about what you're reading? We value your feedback!