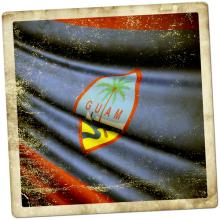 In 'Island of Warriors,' the second episode of the new PBS series America by the Numbers, Maria Hinojosa, executive producer and anchor of NPR's Latino USA, examines the challenges faced by American veterans in Guam. While Guamanian residents serve in the military at three times the rate of the rest of the United States and territories, they receive the lowest per capita medical spending from the U.S. Department of Veteran Affairs. This discrepancy in resources translates to only two full-time psychiatrists for an island of as many as 16,000 veterans — 3,000 of whom are actively requesting VA medical support for psychological disorders like PTSD.
How could this be possible?
Like Puerto Rico, Guam is a U.S. territory. While residents of these territories can, and do, enlist in the American military, they cannot vote for the president who sends them into battle. Similarly, they are represented on the floor of the House of Representatives only by delegates, who have no voting power.  Eddie Calvo, the Republican governor of Guam, spoke truthfully when he ventured to call Guam a "colony" of the United States.
This disenfranchised status means that residents of U.S. territories like Guam have no real standing in American democracy.  They must rely on others to advocate for them. When every state could use more resources to take care of the nearly 20 percent of veterans returning from Iraq with PTSD, who's going to stand up for Guam?
As far as geopolitical power, Guam truly is the "least of these" in American democracy. While many Americans deplore Puerto Rico's secondary status in American political discourse, Hinojosa recalled one Guamanian saying, "We just wish we were Puerto Rico. At least then people would know where we are."
Think about it: Do you know where Guam is? I didn't.