Our mounting anxieties are confronted in the psalm for the final Sunday of this month. Not the wear and tear of personal difficulties, but stress, fear, and exasperation at the flourishing of injustice, denial, mendacity, and exploitation. All exacerbated by the frenzied input of the media in which we are saturated. The psalmist speaks: Be still before the Lord and wait patiently. Do not fret over those who prosper, who succeed in evil schemes (see Psalm 37). The psalms do not prescribe withdrawal, tranquilizers, or techniques of self-calming, but stillness "before the Lord."
Those who are emotionally tortured by the enormity of the damage being done to humanity by so many powerful people need a renewed spirituality for activists that derives its strength from a deepened intimacy with God. The psalmist shows the frankest awareness of the howling frustration that wreaks havoc with our physical and mental health and shreds our emotional availability to one another, and yet is certain that the only ultimate antidote is personal exposure to the joy and tenderness of God. "Take delight in the Lord, and you will be given the desires of your heart" (verse 4). Those who listen closely will hear echoes of this in other readings. Very tellingly Jeremiah urges, "Blessed are those who trust in the Lord, whose trust is the Lord" (17:7). Trusting in God, but more than that, experiencing the indwelling of God in our hearts and the pulsing trust from that heart living in us.
It is easy to overuse the word "prophetic" and tread it flat. We need scriptures like these to restore authenticity to our language about prophetic calling and ministry. Jeremiah recounts his experience of God's call to be a prophet when he was still a youth. He resisted the call because he was still embedded in a culture weighted toward the kind of authority supposedly earned by years of experience. But a prophet must be disembedded from her culture to address that culture with God's authority. And "experience" is often just a code word for initiation into the values of an unjust order. God challenges the normal requirement of experience, placing the prophet solely under the authority of God's own promise. No experience necessary! I am reminded of God's mordant skepticism toward society's conventional valuation of experience in Charles Péguy's great poem "The Mystery of the Holy Innocents." Péguy writes: "As for what you call experience, your experience, I call it waste, diminution, decrease, the loss of hope."
In Jesus' confrontation at Nazareth with those who knew him only too well, he quotes a bit of folk wisdom: "No prophet is accepted in the prophet's hometown." By definition, a prophet is an outsider: She thinks outside the categories that form the common-sense worldview. And so she is drawn to the stranger and those on the fringe who are more likely to be open to acts of God invisible to conventional eyes. Jesus then scandalizes his former playmates by mentioning that the only successes Elijah and Elisha had at healing were with pagan foreigners. The congregation instantly changes into a lynch mob from which Jesus narrowly escapes.
Paul's praise of love in 1 Corinthians 13 challenges our prophetic practice: "If I speak in the tongues of mortals and of angels, but do not have love, I am a noisy gong or a clanging symbol." Prophets take their stand where God's incandescent holy love meets human resistance. It is a perilous place where prophetic actions can insidiously draw on the dark energy of hostility and self-righteousness, and utterly forfeit their authenticity.
Read the Full Article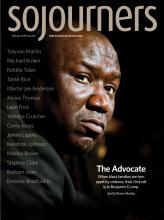 ​You've reached the end of our free magazine preview. For full digital access to Sojourners articles for as little as $3.95, please subscribe now. Your subscription allows us to pay authors fairly for their terrific work!
Already a subscriber?
Login