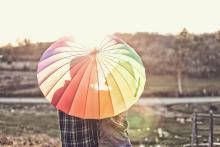 One of the hot button topics in America today is same-sex marriage. This issue has been in the news often due to same-sex marriage bans being struck down in state after state and on the minds of many after the controversial "religious freedom" law passed in Indiana (and similar ones already enacted in other states). And it has been in the hearts of many gay and lesbian couples faced with the possibility of being denied access to services because of who they are and who they love.
Imagine planning and preparing for your wedding for months, making decisions about guest lists, music, menus, seating charts, and attire. You go to the lone bakeshop in town to talk about your cake choices, only to be told that the baker is not willing to work with you because you are gay or a bi-racial couple or a couple from another faith tradition. Imagine the feelings of rejection, isolation, and denial that you would potentially feel, because the state allows this denial of services. This scenario is not hard to imagine, because it is legally allowed in many places throughout our country.
"Othering" happens all the time for many different reasons – not just sexuality, race, and gender.
About 10 years ago, my son and I were at a local park playing on the swings when a group of young boys started taunting a small child with a disfigured arm about 50 yards away from us. They were calling her ugly names and throwing small rocks and sticks in her direction. We had seen this little girl playing happily, running around, and laughing with delight. But now she looked terrified.
I heard the taunts and began moving that direction to intercede, but my son outran me. Only six years old at the time, he yelled at the boys, "Leave her alone. She's just like us." The boys saw and heard my son and likely saw an adult close on his heels. They abandoned their harassment and ran away.