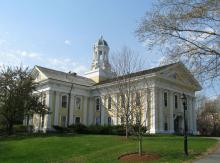 The foundation of Madeleine L'Engle, the late National Book Award-winning author of A Wrinkle in Time, has awarded OneWheaton, an independent community of LGBT students and alumni from Wheaton College, a $5,000 grant.
OneWheaton is committed to affirming LGBT students but is not officially recognized by the prominent evangelical school, which can expel students caught in homosexual behaviors.
The group plans to use the money to fund public discussions and forums about LGBT issues and evangelical culture.