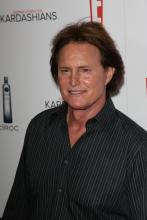 Caryn Riswold wrote a moving article about Bruce Jenner's interview on Friday with Dianne Sawyer. In the interview, Bruce states, "For all intents and purposes, I'm a woman. People look at me differently. They see you as this macho male, but my heart and my soul and everything I do in life – it is part of me. That female side of me. That's who I am."
Caryn's article is titled "How Should People of Faith Respond to Bruce Jenner?" It is a compassionate response to Jenner and all people who identify as transgender. She states that all people are created in the image of God and so deserve our love and compassion. Sadly, many religious people disagree with Caryn, insisting that Jenner is confused, crazy, or just out for attention.
Caryn worries that Jenner will be mocked and ridiculed. She states that people of faith should not respond with ridicule, but rather with acceptance and compassion.
Pay attention to the one who isn't laughing. The one who looks upset. The one who is desperately trying to escape the gaze and the mockery.
Pay attention to the ones on the margins. Whose image are they created in?