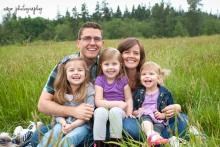 A Mormon man and woman in a mixed-orientation marriage are objecting to their inclusion in a U.S. Supreme Court case filing because it argues that legalized gay marriage would demean marriages like theirs.
Josh and Lolly Weed's names and statements are referenced in a "friend of the court" brief ahead of the April 28 arguments in a consolidated 6th Circuit Court of Appeals case, which many expect will legalize gay marriage nationwide.
The brief was filed April 3 on behalf of couples in mixed-orientation marriages — unions in which one partner is gay and the other is not — who oppose marriage equality.
The Weeds told The Salt Lake Tribune on April 14 they didn't consent to be included in the filing, nor do they share its view.
Among the filing's arguments: Constitutionally mandated same-sex marriages can exist only by "erasing, marginalizing and demeaning the same-sex attracted who live in man-woman marriages" and would send a "harmful message that it is impossible, unnatural, and dangerous for the same-sex attracted to marry members of the opposite sex."
"What does that have to do with us at all?" asked Josh Weed, an openly gay man who has been married to a woman for 12 years.
"I feel no devaluation of my marriage status by having marriage equality."
The Weeds, of Washington state, became the public face of Mormon mixed-orientation marriage in 2012, when they posted their story on Josh's blog, joshweed.com. They do not advocate mixed-orientation marriages for others.
"My wife and I support marriage equality," Josh Weed said.