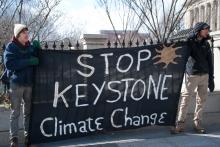 Tonight at 6:00, the Senate is holding a vote on the Keystone XL pipeline. I've been so excited lately by all the good thing happening in Congress, but this just might spoil my mood.
Here's what has happened lately: President Obama met with Chinese President Xi Jinping, and the two of them agreed on a climate pollution-curbing deal. It's a move that many people never thought possible, and it means big things for international climate talks. Also big news in that arena is Obama's recent commitment of $3 billion to the Green Climate Fund, making us one of very few prosperous nations willing to help the world's poor and vulnerable countries grapple with the climate impacts they are already facing – stronger storms, droughts that ravage subsistence farmers, rising sea levels that displace island nations. When the U.S. delegates show up at the U.N. climate talks in Lima two weeks from now, people might actually be happy to see us!
This week is an exciting one on the national level too. This afternoon at the EPA, a group of faith representatives will hand over our thousands of comments from people of faith who support the Clean Power Plan (and want to see the rule implemented well in every state).
But just when things were looking up, enter Congress. Here's the basic scene: