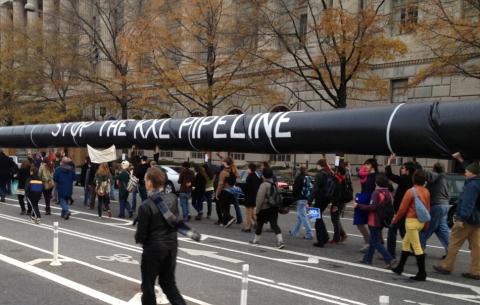 Friday at 3 p.m. ET, the State Department released their long-awaited final Supplemental Environmental Impact Statement of the Keystone XL pipeline extension, a proposed project from TransCanada to build a new pipeline for transporting tar sands crude oil from Canada to a refinery in Texas where it will likely be exported internationally.
Environmentalists and concerned citizens on the pipeline's pathway have been waiting for the State Department to address previously ignored issues like the pipeline's impact on climate pollution. President Obama said in a climate-focused speech last year that he would only approve Keystone XL if it did not pose a significant risk of climate pollution, so although State Department looked at other environmental risks as well (such as the 1,692 pipeline spills or incidents that occurred from 2002 to 2012 in the United States). This review concludes that the number of U.S. jobs to be created – once estimated in the tens of thousands – will actually be 50 operations jobs, with only 35 permanent. The rest (the touted 42,000 number) are all temporary construction jobs.
Another issue that activists like Sojourners' own Rose Berger brought to the public's attention is the conflict of interest involved in State's first pipeline review: they hired a contractor called Environmental Resources Management, the same contractor hired by TransCanada, the very oil company seeking to build the pipeline.
Looking at the immediate media coverage following the release of the review, many say it paves the way for the pipeline's approval, because it finds no significant immediate impact on climate change. Pipeline opponents, though, say the report shows the impacts – and over a lifetime they are significant.
The process is not over yet. Government agencies like the Environmental Protection Agency have a comment period next month to share their expert review of the proposal, and ultimately the decision rests in the hands of Secretary of State John Kerry, who has been outspoken on climate change in the past.
Meanwhile, the southern leg of the pipeline has already been built, using eminent domain in cases where landowners objected, and has had many snags in its construction.
President Obama and Secretary Kerry's final decision remains a mystery, along with the direction of U.S. climate and energy policy.
Liz Schmitt is creation care campaigns associate for Sojourners.