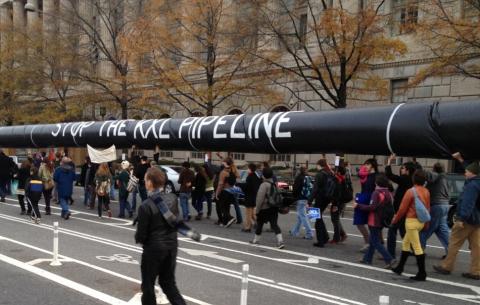 In the midst of our celebration of Earth Day, government agencies continued the debate over the Keystone XL Pipeline, which would transport oil from Canada's tar sands across the United States into the gulf coast of Texas to be refined and shipped elsewhere. The State Department, tasked with reviewing the pipeline's environmental impact, gave it a tentative pass a month and a half ago.
Activists across the country sprang into action to oppose the pipeline, citing its contribution to climate change and risk of oil spills. Supporters of the pipeline shot back, denying the climate impact of the pipeline and claiming that the oil would be produced whether or not the Keystone project moved forward.
The Environmental Protection Agency responded yesterday, calling into question the State Department's findings and echoing the concerns of environmental activists everywhere: the Keystone Pipeline would be greatly exacerbate climate change.
In a seven-page letter, the EPA lays out the case against the Keystone XL Pipeline and calls on the State Department to change their analysis.
According to the EPA, the greenhouse gas emissions caused by the pipeline would be significantly higher than the State Department's analysis. Analysts predict more than 936 additional metric tons of heat-trapping carbon dioxide over 50 years. In layman's terms, that's a lot.
The EPA points out that building the pipeline would hasten the development of the tar sands. Without a pipeline, the high cost of rail transit makes it significantly more difficult to move (and therefore spend money to produce) the oil, and the EPA suggests that the State Department should do a better market analysis next time.
In responding to other heavy oil spills, the EPA has noted that crude oil itself is really difficult to clean up (they've spent three years and $1 billion on a spill in the Kalamazoo River). It does not biodegrade well and is therefore very hazardous to human health. If you think of the recent oil spill in an Arkansas suburb, you understand why it's good to be cautious: if the Keystone XL Pipeline were to spill (especially over the top of a major aquifer, which is its current proposed path), we would have a huge mess.
Those critiques bring the State Department's rosy analysis under harsh scrutiny. Unless the State Department changes their report to address the EPA's objections, the matter will likely have to be resolved by President Barack Obama. The last time this happened, he postponed the decision until after the election.
Let's hope Obama, who cited climate change as a major issue to address in his presidency, is listening. The EPA's findings lend weight to what people who care about creation have been saying all along: the Keystone XL Pipeline is the wrong path forward.
Janelle Tupper is Campaigns Assistant for Sojourners.