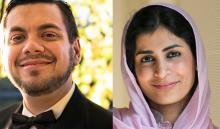 Many of the country's most prestigious universities have hired Muslim chaplains in recent years to offer spiritual support to their Muslim students. Middlebury College, one of America's oldest liberal arts schools, outmatched them all.
The small rural Vermont school hired Beau Latif Scurich and his wife, Naila Baloch, in the summer of 2014 to share the full-time Muslim chaplaincy position.
The 30-somethings, who were previously chaplains at Tufts and Northeastern universities, are the first married couple to share a full-time Muslim chaplaincy position at a U.S. college.