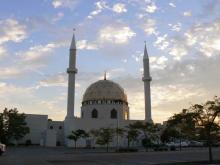 TOLEDO, Ohio — Muslim worshippers are reeling from an arson fire at the Islamic Center of Greater Toledo, but are grateful for an outpouring of support from the local interfaith community.
"All the support we get is very welcome because if you are going through a tragedy and you have a friend who is holding your hand it means a lot," said S. Zaheer Hasan, a spokesman for theUnited Muslim Association of Toledo.
Perrysburg Township police ruled that the Sept. 30 fire was arson. Surveillance footage from the mosque shows a "person of interest" — a white middle-aged male wearing a camouflage sweatshirt and hat — at the mosque's entrance shortly before the fire, which was reported about 5 p.m.
Mahjabeen Islam, president of the Islamic Center, said the suspect poured gasoline in the center of the main floor where men worship at the mosque. Women pray on the same main floor, but in an area separated by a low divider.
"It was set in the men's prayer area and the sprinklers turned out the fire. There is a lot of water damage from the sprinklers," Islam said. "The Islamic Center is uninhabitable for easily three months."