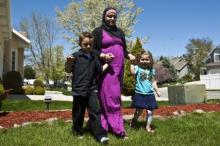 SALT LAKE CITY — Every day. For a month. From sunup to sundown. No food. No water.
No sweat?
No, plenty of sweat, especially this year.
With Utahns baking under energy-sapping, forehead-dripping, water-chugging temperatures, the state's Muslims are swearing off that liquid life force during the heat of the day — and the morning, and the evening.
The annual 30-day fast known as Ramadan, one of Islam's five pillars, began Tuesday and requires that believers forgo food and drink. At this time of year, that means 15 hours of parched throats and unquenched thirst.