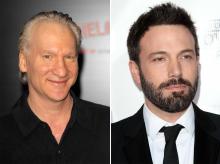 Rene Girard has a prophetic warning in his book Battling to the End about the West's fight against Islamic jihadists:
The West is going to exhaust itself in its fight against Islamic terrorism, which Western arrogance has undeniably kindled.
That Western arrogance was on display last weekend on Real Time with Bill Maher. The tense debate about Islam between Bill Maher, Sam Harris, and Ben Affleck has been shared multiple times over social media and provides a case study in Girard's mimetic theory.
One element that mimetic theory illuminates in this discussion of Islam is the scapegoat mechanism. Scapegoating is a non-conscious way of reinforcing a group's relationship by blaming another group of people for our problems. The scapegoating mechanism is non-conscious because we always think that we are innocent and that our scapegoats are guilty. The video below shows a great example of the scapegoating mechanism when it comes to Islam. (Warning: It's an HBO show — there is some foul language.)