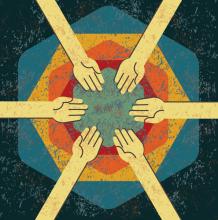 Inequality is a relentless blight. The hopelessness too often engendered when a lack of resources aligns with insufficient educational access, the easy prejudice of one's neighbors, and the ubiquity of oppression is dehumanizing and crushing.
In recent days, much of our political discourse has focused — at least in words — on economic inequality. From the left and right alike, laments arise about the shrinking of the middle class and the widening and yawning gap growing between those who are thriving in a rebounding economy and those left behind by a rising Dow.

The next presidential campaign will likely be dominated by questions of economic justice and the American promise that hard work and perseverance can yield a better life. Is this dream a myth or reality? How we answer this question will say much about our hope in the future, our trust in one another, our faith in a God who promises life abundant, though an abundance that comes in a form we might not expect.