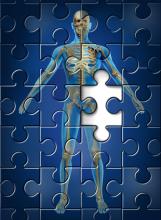 Opponents of Obamacare like to talk about how long it takes to get a hip replacement in, say, Canada —even though the Affordable Care Act is nothing like the Canadian health plan. Let's put this in perspective. How about a system that charges so much that some middle-class insured people can't afford a hip replacement at all?

... Unless they fly to a Western European country with "socialized" medicine and pay out-of-pocket?
Check out this story about Michael Shopenn, a man whose artificial hip was manufactured in Warsaw, Indiana, a "global center of joint manufacturing." Shopenn, who had health insurance, could not get coverage for a hip operation because his insurer deemed it a pre-existing condition (note: that should no longer be a problem under the ACA). So he ended up flying to Belgium.