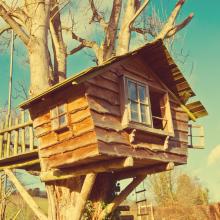 My sister has one of those plastic playhouses in her backyard for her two boys. When she hosted a garage sale a few years ago, children accompanying their shopping parents would see the playhouse and join in.
I remember looking over at one point and seeing five children playing together. Different ages, different sexes, different races. All strangers. All playing together.
When they looked at each other, they saw a playmate.
In his autobiography, Nelson Mandela noted that children have an innate openness that tends to get closed off as they spend more time in the world.
"No one is born hating another person because of the colour of his skin, or his background, or his religion," Mandela wrote in his autobiography. "People must learn to hate, and if they can learn to hate, they can be taught to love, for love comes more naturally to the human heart than its opposite."