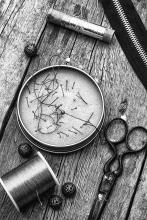 It's interesting how we tend to think of birth and death as opposites, two bookends with life in the middle. But we also know from experience that birth and death really are two different words for the same thing. They involve change, a moving from one phase of life to another.
Birth and death and rebirth are parts of the very fabric of life.
This moment, countless cells inside our bodies are dying and being replaced by new ones just like them. New ideas are being hatched in our heads, replacing old ones. Stars throughout the universe are using up their final fuel and imploding, sowing seeds for rebirth throughout the universe.
All around us and within us, there's a constant birth and death and newness.
It's what life is about.
The same is true of our human institutions. Whether they'll acknowledge it or not, they're constantly going through the birth-and-death-and-rebirth cycle. It's certainly that way with our religions and our churches.