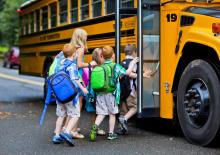 In every moment, we are every age we have ever been, according to psychologist Carl Rogers. For me, this means our bodies are like a bus riding down the highway of life, and the passengers are who we have been at every age. As we travel through life, some things we see, hear, and experience evoke feelings of great joy, love, and calm — or trigger tremendous anxiety, pain, and fear — from different past experiences.
When children are treated like they are not important, told they not smart enough or good enough, valued more for their accomplishments than for the unique individuals they are, treated like they only have value if they have money, or abused emotionally, physically, or sexually, the impact of those feelings never goes away. Those feelings continue to ride on the bus.
Because the child within us never goes away, the impacts of childhood abuse and neglect are long-term unless there is meaningful intervention.