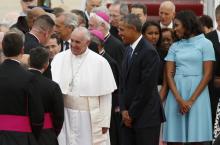 Pope Francis touched down in Washington on Sept. 22 after a historic visit to Cuba, the first Latin American pope in history on his first trip to the U.S. He comes "as a migrant," as a top papal aide put it, on a six-day visit filled with great expectations for the popular pontiff but also numerous challenges.
Among them are the sharp, even personal criticisms directed at him from American conservatives upset with his thundering pronouncements against economic injustice and climate change, and from conservative Catholics upset that his focus on the poor and marginalized is undercutting the Catholic Church's focus on battling abortion and gay marriage.
Francis himself addressed those concerns even before he landed, telling reporters aboard the chartered Alitalia jet that everything he has said is in keeping with church teaching and laughing at repeated accusations that he is a communist or radical left-winger:
"I am certain I have never said anything more than what is in the social doctrine of the church," Francis said, according to Catholic News Service .
"I follow the church and in this I do not think I am wrong.