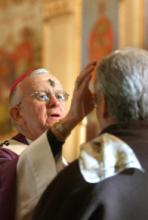 This Wednesday marks the beginning of Lent with Ash Wednesday. For Christians, Lent is a 40-day season of fasting, reflection, and penance culminating in Holy Week and the Easter Sunday commemoration of Jesus' Resurrection.
The Rev. Arne Panula, director of the Catholic Information Center in Washington, D.C., said his experience is that more people go to church on Ash Wednesday than any other holiday, including Christmas and Easter.
Here are a few basics on the Ash Wednesday tradition.