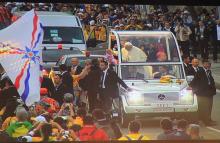 In just one generation, Latin America has seen the number of people who identify themselves as Catholic plummet, with more people becoming Protestant or dropping religion altogether, a new report shows.
The shift is dramatic for a region that has long been a bastion of Catholicism. With more than 425 million Catholics, Latin America accounts for nearly 40 percent of the global Catholic population. Through the 1960s, at least 90 percent of Latin Americans were Catholic, and 84 percent of people surveyed recently by the Pew Research Center said they were raised Catholic.
But the report released Nov. 13 found that only 69 percent of Latin Americans still consider themselves Catholic, with more people switching to more conservative Protestant churches (19 percent) or describing themselves as agnostic or religiously unaffiliated (8 percent).
Even last year's election of an Argentine as pope to head the Catholic Church has led to conflicting feelings in Latin America.
"While it is too soon to know whether (Pope) Francis can stop or reverse the church's losses in the region, the new survey finds that people who are currently Catholic overwhelmingly view Francis favorably and consider his papacy a major change for the church," the report said. "But former Catholics are more skeptical about Pope Francis. Only in Argentina and Uruguay do majorities of ex-Catholics express a favorable view of the pope."