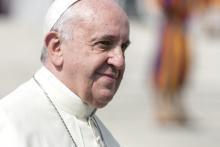 In a powerful sermon that signaled his desire to push ahead with historic reforms, Pope Francis on Sunday said the Roman Catholic Church must be open and welcoming, whatever the costs.
He also warned the hierarchy not to be "a closed caste" but to lead in reaching out to all who are rejected by society and the church.
"There are two ways of thinking and of having faith: we can fear to lose the saved and we can want to save the lost," Francis told hundreds of cardinals and bishops arrayed before him in St. Peter's Basilica at a Mass centered on the story of Jesus healing a leper rather than rejecting him.
"Even today it can happen that we stand at the crossroads of these two ways of thinking," the pope said as he outlined the current debate in the church between those seen as doctrinal legalists and those, like Francis, who want a more pastoral approach.
"Jesus responds immediately to the leper's plea, without waiting to study the situation and all its possible consequences," Francis declared. "For Jesus, what matters above all is reaching out to save those far off, healing the wounds of the sick, restoring everyone to God's family. And this is scandalous to some people!"