Massimo Faggioli is a professor of theology and religious studies at Villanova University and a contributing editor to Commonweal magazine.
Posts By This Author
Two Key Takeaways From Pope Francis' TED Talk
05-02-2017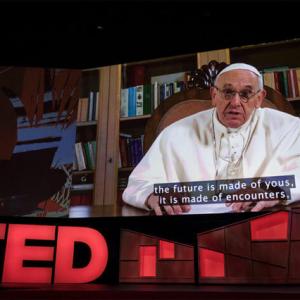 The talk — a surprise for all in the audience — recapitulated the key themes of the Argentinian pope's view of the human person: We are all related and interconnected; scientific and technological progress must not be disconnected from social justice and care for the neighbor; and that the world needs tenderness.
I am a scholar of modern Catholicism and its relations with the world of today. From my perspective, there are two essential elements of this talk that are important to understand: the message of the pope and his use of the media.
Parallel Lives? Trump, Meet Berlusconi
11-14-2016
Donald Trump's victory in the 2016 presidential election has few parallels in the history of contemporary politics in the Western world.
But the closest one is familiar to me: Silvio Berlusconi, the media tycoon who was elected prime minister of Italy — my homeland — for the first time on March 27, 1994 and who served four stints as prime minister until 2011.