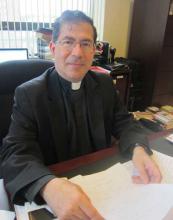 NEW YORK — A year ago, the Rev. Frank Pavone was facing an existential crisis in the unlikeliest of places.
The longtime head of the anti-abortion group Priests for Life, Pavone had been confined to the Diocese of Amarillo by his bishop, Patrick J. Zurek, who sent a letter to every other U.S. bishop declaring that he had so many concerns about the group's $10 million budget that Pavone shouldn't be trusted with donors' money.
Pavone's backers were stunned, and many stopped giving, which only exacerbated the problems that helped get Priests for Life into trouble in the first place. Pavone also couldn't go on the road to reassure funders and drum up desperately needed cash.
Instead, the New York-born priest was stuck in a convent in the Texas panhandle where he served as chaplain to an order of nuns in a place called Prayer Town, a virtual prisoner in a war of words with Zurek, who had blasted his "incorrigible defiance of my legitimate authority as his bishop."