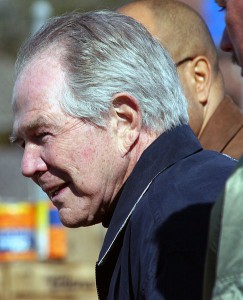 Mark your calendars.
The Rev. Pat Robertson has announced his ersatz retirement from politics.
Robertson, 81, tells the Associated Press that he will no longer offer political endorsements.
"I've personally backed off from direct political involvement," Robertson said. "I've been there, done that. The truth of the matter is politics is not going to change our world. It's really not going to make that much of a difference. ... When I was in charge of the Christian Coalition I was available to mobilize grass-roots support for somebody. I don't have any army right now. It's just an opinion, and that isn't quite as good as it used to be."
Recalling Robertson's greatest political hits (or gaffes, depending on your point of view), the AP reports:
He once said American agents should assassinate Venezuelan President Hugo Chavez and suggested the debilitating stroke suffered by Israeli Prime Minister Ariel Sharon was divine retribution for his decision to withdraw from the Gaza Strip. He was slammed by the White House last year for saying Haiti was cursed a day after a devastating earthquake. Last month, he outraged many by suggesting a man whose wife has Alzheimer's Disease and was seeing another woman should divorce his wife.

He also caused a stir for saying the federal courts, pornography, abortion rights and church-state separation angered God, allowing the Sept. 11 terrorist attacks to occur.

The last person Robertson endorsed was former New York Mayor Rudolph Giuliani, a move that surprised many of his followers because of the Republican's support for gay rights and abortion rights.
Read the full report HERE.