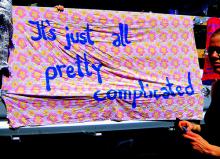 A fascinating new study by the Public Religion Research Institute found that two-thirds of all Americans identify with both the "pro-life" and "pro-choice" labels simultaneously.
The PRRI reports that 7-in-10 Americans say the term "pro-choice" describes them "somewhat" or "very well," and nearly two-thirds simultaneously say the term "pro-life" describes them "somewhat" or "very well."
"This overlapping identity is present in virtually every demographic group," the report said.
In one of the largest public opinoin surveys ever conducted on the subject of abortion and religion, PRRI's study, "Millennials, Abortion and Religion Survey," uncovered "large generational differences on two issues that have often been linked in political discourse: abortion and same-sex marriage."
According to the survey, Americans ages 18-29 (a.k.a., "Millennials") strongly support legal access to abortion services in their local communities despite being conflicted about the morality of abortion itself.