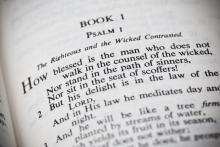 For decades, Psalm 139 has been a byword of the anti-abortion movement, printed on posters in crisis pregnancy centers. More recently, it's been tied to high-resolution ultrasounds, the movement's most potent technological persuader.
At the same time, the famous Psalm has also "come out" as a source of strength for gay and lesbian Christians.
Together, the two uses illustrate how great verses -- particularly the Psalms -- attract diverse constituencies.