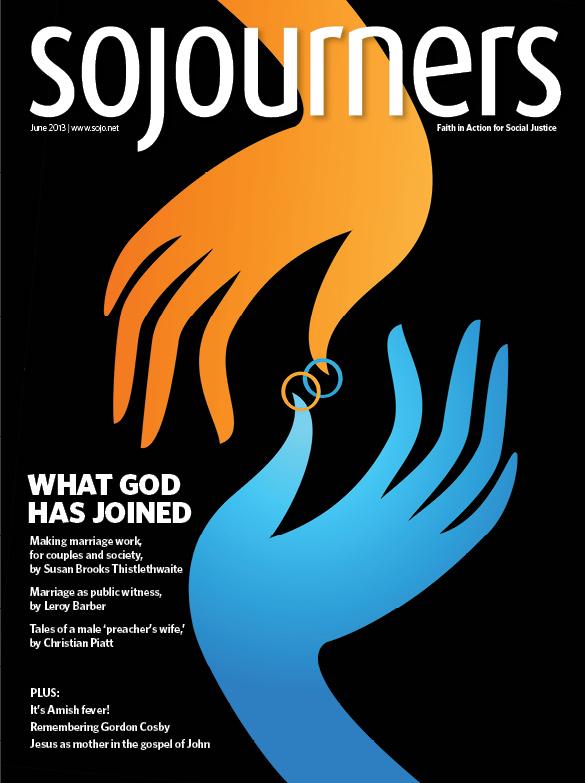 Magazine
Sojourners Magazine: June 2013
Subscribe to Sojourners for as little as $3.95!
THIS SUMMER, THE U.S. Supreme Court will issue its ruling in two same-sex marriage cases. But what about the institution of marriage itself? With nearly half of all marriages ending in divorce, are we losing the ideal, and practice, of this covenantal commitment?
Our cover features suggest some answers. Susan Brooks Thistlethwaite writes of the threats to marriage from economic conditions, domestic violence, and incarceration, as well as the glue of trust, commitment, and equality that holds it together. Leroy Barber offers lessons he and his wife have learned in 28 years of marriage, and Christian Piatt tells of his life as a "pastor's wife" and the responses to that role reversal.

Stories of role reversals are also in the news about Pope Francis following his installation this spring. His decision to live in a guesthouse rather than the papal apartment, wear a simple white cassock rather than elaborate vestments, and wash the feet of 12 young people in a youth prison on Maundy Thursday, including women and Muslims, sent a strong message that this was a different, more humble pontiff, as Rose Marie Berger explores in her column.

As we commemorated the death and resurrection of Jesus at Easter, Church of the Saviour co-founder Gordon Cosby, a longtime teacher, mentor, and friend with many of us at Sojourners and frequent contributor to these pages, went home to be with God. Jim Wallis reflects on Gordon's life and ministry as one who simply wanted to be known as a follower of Jesus.

Now we celebrate Pentecost, the day when the first followers of Jesus left the shelter of their upper room and went out into the streets with a new message for the world. In our witness for social justice—immigration reform, reducing gun violence, reversing climate change, economic justice—may we have the same Spirit of boldness and hope that they did.