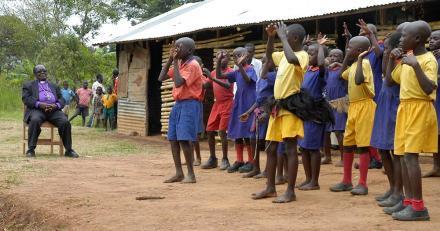 I'VE WINCED often at the portrayal of religion in recent documentaries—partly out of embarrassed identification with some of the apparently crazy things I've witnessed in real life, and partly because some documentarians seem to think that there's nothing to religion other than those crazy things. God Loves Uganda, a new documentary about the role played by U.S. missionaries in nurturing that country's homophobic culture and legislation, manages to avoid the mistake of confusing bad religion with all religion.

The concern for the Ugandan people manifested by fundamentalist charismatic Christians is suggested to be far less than the sum of its parts as they become participants in the nurturing of a social structure that aims to eradicate gay people. But the film avoids easy stereotyping of Christian mission work, particularly in the person of Bishop Christopher Senyonjo, a smiling radical in the mold of Desmond Tutu. His is a face of Ugandan Christianity that is open, generous, alive, courageous, and kind—a prophetic African voice for human rights.

Wendell Berry recently suggested that the expression of anti-LGBTQ sentiment may evoke a kind of subconscious reaction in the proponent akin to autoerotic pleasure. Delighting in the pain of others is a kind of sadism rooted in the insecurities harbored by the person who has decided it's their job to be the moral police, despite how kind they may think they are being. The fear stirred by psuedo-Dominionist movements may have given the U.S. missionaries in God Loves Uganda a sincere desire to change the world. But their lack of self-reflection leads them to export some of the worst of American cultural imperialism: prejudice, the conflation of sentimentality and cultural ignorance with love, the denial of the gift that the other has for us.

The beginning of wisdom proposed in the best documentaries is simply this: telling the truth, to ourselves and others, as best as we can. For good current examples, try Running from Crazy, about the desire to transcend family trauma; The Pleasures of Being Out of Step, about Nat Hentoff, fierce resister of civil rights abuses (and reveler in the majesty of jazz); and the visually extraordinary night in the life of a commercial fishing vessel that is Leviathan. Like God Loves Uganda, writer-director Sarah Polley's Stories We Tell—which is the best documentary of the year so far—is dedicated to such facing and searching.

Gareth Higgins, a Sojourners contributing editor, is executive director of the Wild Goose Festival. He saw these films at North Carolina's Full Frame Film Festival—they should each be available online or in theaters soon.