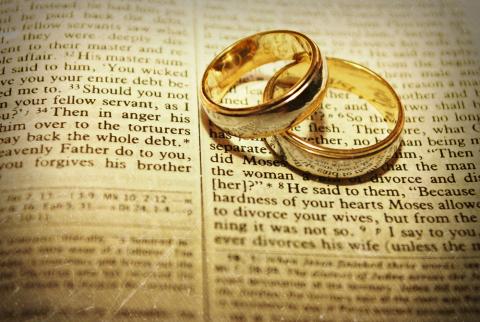 MARRIAGE IS A wonderful thing. Yet it seems to be taking a hit in our society, and I must say it is taking a hit in my community at rates I am very uncomfortable with as an African American.

My wife, Donna, and I have been working in ministry and missions for a long time, and we see our marriage as a key to our work. We live and work in the city in a mostly black neighborhood, and the percentage of married black couples is extremely low. Modeling a great marriage is something we take seriously and make very public. If we didn't make our marriage and relationship public, some of the young people we know and work with would not know personally any happily married African-American couples.

It is our intent to live out our lives as a couple and family so others can see its beauty and challenge. Our community has upwards of 90 percent single-parent homes, with few dads present and even fewer marriages. Marriage is one of our greatest "testimonies" of God's grace and love in our lives. How we love each other and our children is a important part of our work, so we are very intentional about the health of our marriage. This has given us the opportunity to love each other well.

A public manifestation of our marriage means we celebrate one another with friends as much as possible. We announce our date nights and trips we take together, and we publicize special days and anniversaries. We let people know how much we enjoy it being just the two of us, and we even disagree publicly so people know we are individuals and have our own opinions. It is our opinion that black children need to see and interact with healthy black couples.

Donna and I will soon celebrate our 28th wedding anniversary. My wife is a friend, partner, lover, and buddy that I would not trade for anything in the world. We were married young—I was 20 and she 21. We have had an incredible time together. At this point most of our lives have been spent with each other, and the ride has been tremendous. Marriage has been very good for and to us. Here are a few things we have learned along the way:

1) You can have a great marriage even if your parents did not. We often meet people who think because their parents' marriage didn't go well, that will be their experience. Both of our parents' marriages ended, yet we committed to one another and have been able to stay together based on that commitment.

2) In Christian marriage, mutual submission and care are needed. You are partners and friends; not "man" plus a woman to serve "man."

3) People change and so will your spouse. You have to commit to changes that will happen with your spouse. Spouses will change and grow, just as you will.

4) Kids don't make a marriage. Your children will leave, and marriages centered around children are soil for unhappiness. Do something to give your undivided love and attention to your spouse every week.

5) Spend money on your marriage, the same way you save for the house, your kid's college education, or a rainy day. Put money away to spend on or go away with your spouse.

Marriage is a wonderful journey with another person that will lead to some very joyful places in your life. It is work, but it's work that pays incredible wages. Our hearts long to see marriages of all people celebrated and lasting.

Leroy Barber is president of Mission Year and a participant in Sojourners' "Emerging Voices" project.
Image: Wedding rings on a Bible, audioscience / Shutterstock.com