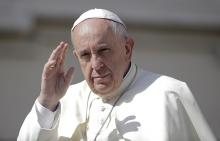 Pope Francis on Aug. 19 reflected on the "serious social damage" caused by unemployment and praised governments for their efforts to create jobs.
Speaking during his weekly audience in St. Peter's Square, Francis said one's working life and spiritual life are closely linked.
"The lack of work also damages the spirit, like a lack of prayer also damages practical activity," he said.
The pontiff focused on the dignity of work and the responsibility of employers.
"The management of employment is a great human and social responsibility, that cannot be left in the hands of the few," he said.