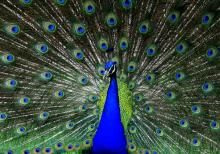 Let those who boast, boast in this, that they understand and know me, that I am the Lord; I act with steadfast love, justice, and righteousness in the earth, for in these things I delight, says the Lord." (Jeremiah 9:24, NRSV) 
Pride has taken many forms in my life, but most dangerously in this: I have taken myself far too seriously. You wouldn't think that a neurotic worrier who spent eight years in therapy would be full of pride. But for years I was utterly consumed with anxiety over what would happen in my life, because I believed that it should go a certain way and that I had both the responsibility and ability to bring that about.
So there's nothing like having your worst fear come true — 19 months* of unemployment in a bad economy — to show you how small you really are, especially compared to God.
It was kind of amazing.