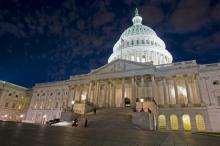 What I have heard after visiting 18 cities in six weeks is that people around the country believe that nothing can happen in Washington, D.C. They are basically right. So I am very grateful today to report the one exception.
On Tuesday, the Senate Judiciary Committee approved a new comprehensive immigration reform bill with a bipartisan vote. Did you hear that: "bipartisan." Amid heartbreaking news of the destruction, grief, and heroism we have seen in Moore, Okla., from one of the worst tornados in American history, millions of Americans found a reason to be hopeful.
This historic immigration bill now goes to the full Senate, where it has a real chance of passing and changing the lives of 11 million aspiring Americans. These are the "strangers" talked about throughout the Bible, and about whom Jesus said, in Matthew 25: how we treat them is how we treat him. That realization has caused a literal biblical conversion in the evangelical Christian community, which with the help of law enforcement officials and business leaders has done the impossible — changed Washington, D.C.
Self-interests, special interests, and even conflicting principles all put this life-changing proposal in grave danger. But in a town defined by gridlock, a group of eight senators crafted a bipartisan proposal that passed with only minor change. The bill reflects agreements reached by the AFL-CIO and Chamber of Commerce; imagine that. It isn't perfect and no single legislator got everything she or he wanted, but the key elements that many of us have been fighting for are intact. That really is a triumph of the common good.
Now, I am asking you to write your senators and ask them to support this bill on the Senate floor.