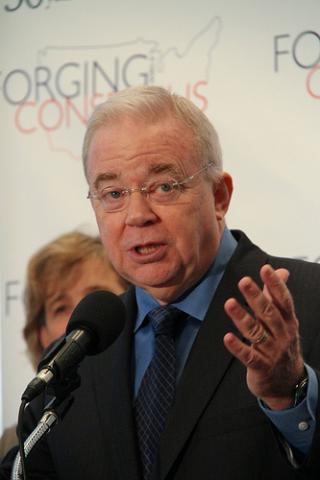 Today, both progressive and conservative leaders from the business, law enforcement, and faith communities came together in Washington, D.C., during the two-day National Strategy Session to launch a new consensus around immigration reform.
Leaders launched the event with a press conference highlighting our broken immigration system — which affects all sectors of society — and urged immigration reform in 2013 that includes legalization and path towards citizenship.
Law enforcement officials, like Utah Attorney General Mark Shurtleff, stressed the need for comprehensive immigration and said, "We need a comprehensive bill. We cannot do a piecemeal approach."
Speaking from the business perspective, Sheldon Brown, a dairy farmer and owner of Woody Hill Farms in Salem, N.Y., said his farm would not be as successful were it not for the dedicated and hard-working immigrant labor staff.
"Congress must act on immigration solutions that provide a stable, skilled and legal workforce for dairy farms and for America's businesses across the country," he said.
Energized more than ever, this critical bipartisan alliance pledged to apply pressure both on party leadership and the administration to enact broad immigration reform early next year.
Jim Wallis, President and CEO of Sojourners, pledged his full support as a representative of the faith community.
"We call on republicans, democrats and the president to put ideological divides aside … Our political leaders need to stop accepting this broken and morally corrupted immigration system," Wallis said. "The country is hungry to see our political leaders work together and find a bipartisan solution to an issue of this magnitude. And I have faith that comprehensive immigration reform is that common ground."
Check out the full press conference at http://forgingconsensus.org/.
Ivone Guillen is the immigration fellow at Sojourners.