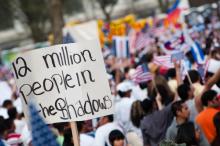 As President Barack Obama prepares for a second term, immigration reform is rumored to be at the top of his agenda. With conservative opinion on the issue shifting, a unique opportunity exists to fix our nation's broken immigration system. Americans are eager to see the president and Congress make progress on this unnecessarily vexing issue.
The record Latino voter turnout in support of President Obama played a key role in his electoral victory, as he won 71 percent of the vote compared with 27 percent for Gov. Mitt Romney.
These results have provided a catalyst for reenergizing the conversation around comprehensive immigration reform and paved the way for unexpected conversations among conservatives.