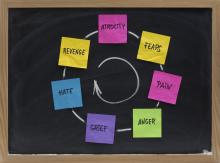 After my article on the terrorism in Paris last week, readers offered some thoughtful critiques of my position. Their comments zero in on the difficulty inherent in sorting out responsibility for violence without blaming victims or excusing perpetrators. My effort, however flawed, in analyzing this instance of violence had one goal in mind: to discredit our methods for justifying violence. What seems to have elicited the most concern is my use of the image of a dragon to discuss René Girard's concept of the sacred. I pointed out that the editors at Charles Hebdo unapologetically embraced radical secularism. They believed that sacred structures are not only as dead as a mythical dragon, but that they have no function in modern society. I begged to differ, not because I am a fan of the archaic sacred, as Girard calls it, but because I am extremely concerned that continuing to remain ignorant of the way it functions in modern society is the greatest global threat we face today. Here are four things you need to know about the relationship between the archaic sacred and violence and how that relationship threatens our world:
1. Categorical Confusion
The archaic sacred is also called the false sacred because it generates a world in which false differences appear to be true. We see this dynamic clearly in the actions of terrorists who believe in a false difference between legitimate targets for violence (Western secularists, for example) and victims of violence who must be avenged (their religious and national compatriots). We easily condemn them for justifying their own violence with self-righteous fervor. Trying to expose the difference humans have constructed as categorical lies is the driving force behind our work at the Raven Foundation.
Let me be clear: No human being is a legitimate target for violence, period. To say otherwise is indeed to blame the victim and excuse perpetrators. However, to defend victims of violence by glorifying their deaths or sanctifying the values that apparently got them murdered is to play into the hands of the archaic sacred. Why? Because by explaining why these victims did not deserve to die, we indirectly acknowledge the possibility that some victims might indeed deserve what they get. In other words, the victims of the Paris terrorism are not to be mourned because they were good, noble, or saintly people. It wouldn't matter if they were liars, cheats, and murderers – no one needs to earn the right to NOT be murdered. To hang on to the difference between those who deserve to die and those who don't is to hang on in confusion to a false difference that serves only one purpose – to sanctify violence and ensure its continued presence as a plague in our world.