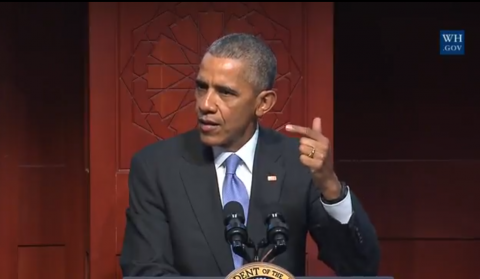 In times of rising Islamophobia, President Obama made a plea for religious tolerance at the first visit to an American mosque of his presidency.
A lot of Americans have never been to a mosque, the president said as he began his speech, shoeless per Muslim tradition, in the Islamic Center of Baltimore's prayer hall on Jan. 3.
"Think of your own synagogue or church or temple, and a mosque like this will be very familiar," he said.
"This is where families come to worship and express their love for God and each other."
"This mosque like so many in our country is an all-American story," Obama said, praising the hard work and educational achievements of the immigrants who make up much of the Islamic Society of Baltimore, where 3,000 attend Friday prayers.
The president said to the audience of about 500 that he wanted to say two words to the Muslim-Americans that they don't hear very often: "Thank you."
"Thank you for serving your community," he said.
Obama went on to decry Islamophobia, and increasing threats against Muslims in this country.
Before his speech, he held a roundtable with a cross-section of the local and national Muslim community, where they talked about combatting stereotypes of Muslim-Americans and anti-Muslim rhetoric on the presidential campaign trail.
Before Obama's speech, an honor guard of children bearing the U.S. flag and the Maryland State flag led the Pledge of Allegiance. A recitation of a verse from the Quran followed, as well as words from the president of the Islamic Society of Baltimore, Muhammad Jamil.
"This community is part of the fabric of American society," he said, explaining the founding of the mosque in 1969 in a room at a local university.
Obama has received criticism from the right and the left for his visit to the mosque. Conservative critics have taken the White House to task for choosing a mosque where a former imam, Mohamad Adam el-Sheikh, was accused of ties to terrorist groups.
But White House spokesman Josh Earnest brushed off that criticism, calling attention to the mosque's role as a bulwark against extremism and an enthusiastic participant in community service projects. He also rejected criticism that Obama — who has visited mosques abroad — had waited too long to visit an American one.
"He's here at the right time," Earnest said.
Send Us a Note
Got something to say about what you're reading? We value your feedback!