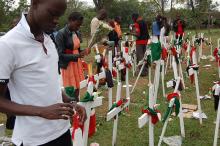 Faced with a fierce enemy driven by Muslim extremist ideology, the government has cracked down on funding for al-Shabab, the Somali group that claimed responsibility for killing 148 mostly Christian students at Garissa University College a week ago.
This week, Kenya froze the accounts of 85 groups and individuals, including bus companies and Muslim rights organizations, allegedly linked to the group. It has closed down one hotel in Eastleigh, a neighborhood in the Nairobi commonly known as Little Mogadishu because of its large concentration of ethnic Somalis.
But the freeze on Muslims for Human Rights and Haki Africa, two nongovernmental organizations, raised questions, since they are known for their work on improving the lives of Kenyans and fighting for human rights of all citizens.
"I am amazed that these human rights organizations are believed to have been supporting terror," said Sheikh Juma Ngao, the national chairman of the Kenya Muslim National Advisory Council.
"I think the government needs to provide some evidence."