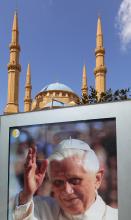 BEIRUT — As violent protests against an anti-Islam film spread to much of the Muslim world on Friday, Pope Benedict XVI arrived in Lebanon to a warm welcome from Christian and Muslim leaders.
The pontiff's appeal for peace and reconciliation in the region, however, stood in jarring contrast with violent clashes in the northern Lebanese city of Tripoli, which left one dead and 25 injured.    
Landing at Beirut's airport in the early afternoon, Benedict praised Lebanon as an example of "coexistence and respectful dialogue between Christians and their brethren of other religions."    
Without referring expressly to the unrest, the pope warned that the country's "equilibrium" is "extremely delicate."