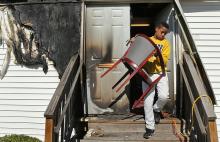 David Lopez Jackson, 35, was charged Oct. 30 with setting two in a string of seven church fires this month, but authorities say they don't know the motive.
The charges were two counts of second-degree arson. Jackson was being held in lieu of $75,000 bail, according to court documents.
Forensic evidence linked him to the fire on Oct. 18 at Ebenezer Lutheran Church; video of his car near New Life Missionary Baptist Church, links him to the fire there on Oct. 17, police Chief Sam Dotson said. Both churches are in the city of St. Louis.