Hundreds of people came to St. Louis over Memorial Day weekend in a "pilgrimage of trust on earth" hosted by monks from the famous French monastery of Taizé.
The multi-day event, which drew hundreds of participants from St. Louis and around the nation, aimed to begin the process of healing in a community traumatized by racial division. The town of Ferguson, Mo., where Michael Brown was shot and killed by a police officer in August 2014, is a nearby suburb of St. Louis.
Over the course of four days, participants gathered at Saint Louis University to pray in the meditative style of Taizé, discuss Bible passages, and reflect together about barriers to trust — and what might be needed to overcome these barriers.
The climax of the meeting came on Sunday afternoon at the Walk of Trust, when participants joined with local religious leaders and city residents to walk through the city, stopping at various places of worship to sing and pray in a demonstration of unity. The Walk of Trust ended on the campus of Saint Louis University, where Archbishop Robert Carlson of St. Louis, who first conceived of the meeting, spoke alongside the Rev. Dr. Traci Blackmon, a pastor in Florissant, Mo., and a leading voice in the response to Michael Brown's death.
"We've come together to take the first step," Archbishop Carlson said to the crowd gathered at Saint Louis University's Chaifetz Arena. "Each one of us, in our own unique and different ways, needs to be healed. And until we take the time to do that, it will hinder unity in our community."
While the Walk of Trust represented a first step for some, Carlson acknowledged that many had long been active in the struggle for justice and unity.
"We know that many people have been taking steps in the last several years to help move our region forward, and we thank them," he said. "But I realize not everyone has been a part of this. There are those in our community who unfortunately are paralyzed by fear. There are some who find it easy to turn a blind eye to suffering. And it's so easy to think that the work of healing belongs to someone else."
Blackmon, Carlson's partner onstage, has been active in justice work for years.
"The last time I stood in front of people at the Chaifetz Arena, it didn't go so well," said Blackmon. "It was right after Ferguson, and we met huge crowds, but we had not yet learned how to have conversation together."
But the prospect of a crowd gathered to pray and to have fruitful conversation together, struck Blackmon as a new beginning.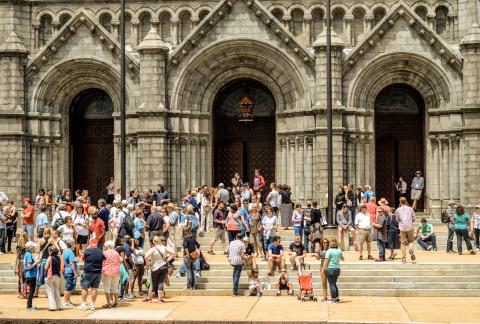 "The work that is being done here, the holy work, the God work, of gathering, of praying, not just with our lips, but praying with our feet, is indeed the beginning," she said. "I see in this place conversation that will lead to connections, that will lead to relationships, that will lead to sustainable change."
The "pilgrimage of trust," a phrase that the Taizé brothers have long used to describe the work of their community, came to St. Louis because of Archbishop Carlson. After Michael Brown's death, he reached out to the Community of Taizé, asking if they would bring their annual meeting in the U.S. — which occurs in a different city every year— to St. Louis.
"I don't think we've ever had such an open invitation from a Catholic bishop in the United States," said Brother John, one of the meeting's main organizers.
Because the Taizé Community is ecumenical —composed of both Protestant and Catholic brothers — the meeting involves more than just the Catholic Archdiocese. This is necessary for the demographic realities of St. Louis.
"He [Archbishop Carlson] couldn't really work for reconciliation, especially racial reconciliation, in the city without involving different churches because the Catholics are mostly white, and most of the African-Americans are not Catholic," Brother John said.
And the brothers of Taizé made some surprising efforts at inclusion, as well. Anybody familiar with Taizé can pick out their particular style of music: gentle repetitive chants, with simple and haunting melodies. But in order to include more of the city's black residents, the brothers introduced gospel music into the weekend's musical program, something the brothers said had never happened before.
"Our idea has always been that if you really want to change things in a way that is going to last, you have to do it together," Brother John said. "If somebody tries to impose their vision, it's just going to lead to reaction, right? That's what always happens, and then back-and-forth, and back to square one again."
Got something to say about what you're reading? We value your feedback!