sojourners magazine
Ties with Redbook, Glamour behind O, The Oprah Magazine
Last Wednesday morning, the Sojourners community lost an extraordinary friend with the passing of Gordon Cosby. In honor of the life and witness of this beloved brother of Christ, we offer this roundup of stories written by and about Gordon Cosby and his wife Mary.
Fortunately, 40 is the new 34, or in my case, 38.
[Editors' note: This post is part of a series over the last few weeks on youth homelessness. In the September/October issue of Sojourners magazine, the Ali Forney Center and the Gay and Lesbian Alliance Against Defamation (GLAAD) ran an ad to raise awareness of the serious problem of LGBT youth
homelessness.]
Fact 1) About 40 percent of the homeless youth in the United States identify as lesbian, gay, bisexual, or transgender.
Fact 2) One in four teens rejected by their families becomes homeless.
Fact 3) Parents who identify as strongly religious are three times more likely to reject their children.
Yet for Carl Siciliano, founder and president of the Ali Forney Center, these aren't just facts -- they are his daily life.
Rose Berger from Sojourners magazine spoke to the hundreds of us gathered in Lafayette Park just before we processed to the fence surrounding the White House. She mentioned the irony of building a monument to Dr. Martin Luther King, Jr. by the powerful political forces who disregarded or dismissed his message during his lifetime -- we only honor him after he is safely dead. How ironic also that the dedication of the monument was postponed by the most recent example of significant climate change. Will evidence of climate change begin to also signal political change?
Rose called on us to take up the banner of the Living Spirit of Dr. King within ourselves and allow it to inspire us as we risked arrest by calling on President Obama to take a clear stand to help protect our environment and begin to make a U-turn from the climate change path we are traveling as a nation and culture. We are part of a two-week vigil and civil disobedience action calling the president to deny permission for building the proposed Keystone XL Pipeline from the environmentally devastating tar sands/oil shale development in Alberta, Canada to refineries in Texas.
The first few nights weren't so bad. It was on the fourth night, the night it rained, that it got to me. I had just spent the past week sleeping on the sidewalk in front of the Illinois state Capitol building in Springfield. Throughout the week, young people of faith, college students, as well as homeless and formerly homeless youth traveled from Chicago to Springfield. Some slept on the sidewalks at night, and others came solely to lobby their legislators. We were all there for the same reason -- because each year nearly 25,000 youth experience homelessness in the state of Illinois. Not only were there not the resources to help these youth, but most legislators and most of the general public didn't even realize the problem existed.
In the past few weeks, I've written about a lot of full-page ads. This full-page ad is different. Too often, homeless youth have been invisible. The Ali Forney Center, a service provider for LGBT homeless youth, has a full-page ad in this month's issue of Sojourners magazine. GLAAD, the Gay and Lesbian Association Against Defamation, connected the Ali Forney Center to Sojourners, as a part of an advertising campaign the Ali Forney Center is running. The ad highlights that up to 40 percent of homeless youth identify as lesbian, gay, bisexual, or transgender. I have talked with many teens who became homeless because they were kicked out of their homes or ran away from abuse by their parents because of their sexual identity. After their homes became dangerous, they went to the streets, where many were attacked and some were trafficked or forced into prostitution.
Mark O. Hatfield's political witness shaped a whole generation of students, teachers, pastors, and social activists in the evangelical community and beyond. The voice of Christians today who plead for social justice and peaceful alternatives to war would not have emerged with its strength and clarity in the 1970s without his leadership. His death underscores the vacuum of such spiritually rooted voices uncompromising in their commitments to peace and justice within the cacophony political rhetoric today.
One of my life's greatest privileges and joys was to work as an assistant to Senator Mark O. Hatfield for nearly a decade, from 1968 to 1977. I saw first-hand what courageous leadership, combined with unswerving compassion and civility, looked like within the political life of that turbulent and formative era. Those experiences are shared in my book, Unexpected Destinations (Eerdmans).
Here's a little round up of links from around the Web you may have missed this week: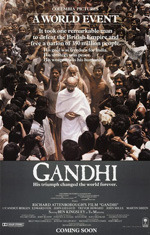 Ah the joy of watching movies in the summer! Of course, there are a number of summer blockbusters coming out that will woo crowds to the theaters, but with the sky-high prices of theater tickets these days, nobody will fault you for wanting to stay home and kick back with a rental. If you're looking for a film that will entertain and inspire you, consider adding some of these excellent films about social change to your online queue. If you have any other films to add to this list, please contribute your favorites in the comments section below. (To read more of my film reviews, check out my monthly column in Sojourners magazine.)
In 2008, as I heard the increasing public rhetoric of hostility emanating from the Middle East, I found myself wondering what Jesus would say and do if he were here in the flesh today.
Pages