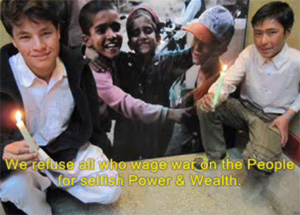 The Afghan Youth for Peace held a candle-lighting prayer vigil to remember all of their family who have died as a result of aggression from the U.S. war, the Taliban, local war lords, and terrorist groups.
"Are their no other options for the people?" they ask.
"Is fighting and killing the best method humankind can come up with to control fighting and killing? Who says so? The people of Afghanistan are tired of war as a method for 'peace', and they want options. They want nonviolent options, options to live without killing."
Watch the video below:
Tell your representative to withdraw troops from Afghanistan.
Rose Marie Berger, an associate editor at Sojourners, blogs at www.rosemarieberger.com. She's the author of Who Killed Donte Manning? The Story of an American Neighborhood available at store.sojo.net.
Got something to say about what you're reading? We value your feedback!